An interview with 'The Holy Day' author Christopher Norris a.k.a. Steak Mtn
Plus, enter to win a signed copy!
Hello and welcome to REPLY ALT, the best/only newsletter about music in the world. Normally these weekly Rock Bookshelf columns are reserved for my paid subscribers but I'm making this one public to get the word out about my friend Chris Norris's deranged new book The Holy Day. HOWEVER, I am giving away a signed copy to one of my paid subscribers (details on how to enter at the bottom), so sign up to get a paid subscription if you want to enter. Here's a discount:
---
A month ago I launched this here weekly book column and, unlike the plants in my apartment, I managed to keep it alive for four consecutive weeks. [holds for applause, pats on the back, people telling me I'm the greatest guy ever, thank you, thank you so much] I thought it would be a giant pain in the ass to keep up with, but it's actually been pretty easy finding things in the literary world to write about every week. This has been an exciting year for the genre of Books That Do Not Suck Shit. 
Earlier this year I mentioned how excited I was that Tonight I'm Someone Else author Chelsea Hodson was launching an indie publishing company, Rose Books. Rose's first release was Thursday frontman Geoff Rickly's drugging-of-age memoir, Someone Who Isn't Me, which really blew me away. This week, the second Rose Books title was released, The Holy Day by Christopher Norris a.k.a. Steak Mtn. 
If you lived through the Great Turn-of-the-Century Screamo Wars, you may remember Chris from his deliberately obtuse bands Reversal of Man and CombatWoundedVeteran. Or you may recognize his artwork from Against Me! album covers and Laura Jane Grace's memoir that I worked on. Or maybe you read his previous book, Hunchback '88, because I interviewed him about it (sorry!). Or maybe he designed some band merch you own, like this wonderfully obnoxious new Jeff Rosenstock shirt: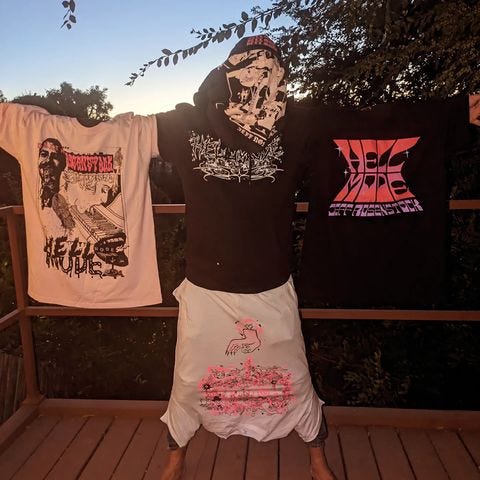 Chris asked me to write a blurb for the cover of The Holy Day and I never know what to say in those things. I called it "both brilliant and maddening" and a "linguistic perversion that taunts the rules and boundaries of literary form." Which was my way of saying: Strap in, mama, because this book's gonna get real freaky ;)
So if you require a book to have a traditional, linear structure, this is probably not the horror novel for you. It feels like the story was flipped inside out, or like a Choose Your Own Adventure book where the adventure was chosen by a psych ward inmate on acid. 
But if you're feeling bold and want to submit to getting lost in the morbid, labyrinthine haunted house that is Christopher Norris's brain, welcome. The Holy Day purports to be a novel about a former teenage detective who goes on vacation to die. Simple enough. But the journey you must take to get there feels like a torture porn movie where the kidnapping victim must try the door of every cursed room in the murder mansion before finally crawling through the rusty cellar gate to freedom.
I have been friends with Chris for a decade and could probably write an entire book on the paradox of his artistic talents, which are both inspiring and frustrating. He is effortlessly gifted as an artist, yet would rather be doing anything else but making art. If I'm not mistaken, I believe he wrote his last book entirely on his phone. It's actually very difficult to explain his creative process, such as it is, so I thought I'd just let him answer a few questions about it and the book…
The Holy Day is the second release from Chelsea Hodson's Rose Books. The first, Geoff Rickly's book, got a lot of attention. Do you feel any pressure following that?
Christopher Norris: No pressure at all! Geoff's standing, and emotional connection, with his fans (horde?) has definitely helped sell more copies of The Holy Day. They are enthusiastic about what he's enthusiastic about, which is a neat trick, some Mabuse shit, and obviously cool for me because maybe softer brains will get dented a bit by my book, and infinitely cool for the growth of the Rose Books empire.
Geoff told me that people have said his book is "out there," and he was like, "If you think my book is out there, wait until you read The Holy Day." Why are you so drawn to non-traditional structure?
Memory, how it first presses then malforms and spreads through a mind, how it deteriorates and shuffles and gets edited into other memories, is something I think about a lot, and informs how I write, or how I make any "Art." No one thinks in complete sentences and most people do not remember anything as a clean narrative, it has to be pulled from the files, taped together and then played through or spoken, and even then it has holes in it. I think, if I wanted to Think Deeply about it, that is why I love movies so much. Memory. Even with a three-act structure, a plot that makes sense, etc., movies present as memories: edits, music cues, time jumps, spacial changes, varying truths in performances, etc. A collection of scattered details. Like memories. That temporal strangeness is something I am drawn to and can be seen throughout The Holy Day and Hunchback '88 before it. The next book I am writing is a bit cleaner in structure, but still mining this same meandering mind and memory bullshit.
Do you think the unconventional way it's written costs you any readers?
Probably? It's hard to tell, but, and we talked a little about this a few years ago, I think people who love to read are willing to run with an unconventional, plotless, difficult, "weird," shaggy dog type of story or book; sometimes the sum of its parts (language, style, structure) can be satisfying enough. And also, because reading is a time investment, you don't find a lot of quitters. Maybe it takes someone forever to read a difficult text, but they don't usually quit it. There is a guilt involved in not finishing something started. Now, of course, not all readers will bend this way, but I think it's more common than the soggy dick drips who demand narrative clarity or a proper resolution from movies. But… back to your question: Probably. Yes. If someone tried to soldier through Hunchback '88 and hated it, I would think they'd not give The Holy Day a shot, getting ahead of a "fool me once…" scenario. And they'd be sort of right.
Talk to me about the white cover. Like your last book, you deliberately want the covers to get dirty by the time they reach people. Is that right?
Yes. I'm a big fan of ruin, blemishment, soiling, etc. And making both editions of The Holy Day white, knowing full well they will get marked easily and quickly, is: 1. An essential part of design. The book being an object. I'm not interested in just making a book to read. Boring. I like the idea that each copy is affected by how dirty of hands a reader has, and 2. Awesome, because I also know bitches are babies about keeping things clean and I love the grenade of serving a white book to those sorts of freaks. That I've made something that could be physically annoying for someone gives me great pleasure. But, to be cool, Chelsea has made sure they arrive protected in plastic and aren't all fucked at the jump.
"That I've made something that could be physically annoying for someone gives me great pleasure."
You've described this as a novel about a teenage detective like Nancy Drew who goes on vacation to die. Why Nancy Drew?
1. I love mysteries. 2. I think the ultimate fictional character is a young person who is smart. And the most interesting mix of those bits is a teenage girl who solves crimes. Nancy Drew rules. Sure, most of the books (and TV shows and movies that aren't the 30s series) aren't great. But the character is great. Definitely better than her peers The Hardy Boys. Fucking dorks. If I was ever given a chance to make a studio picture, I would 100 percent ask if the rights to Nancy Drew were around. Dream job.
But, it's important to note, that the main character in The Holy Day is a former teen detective, and not young, which only sort of gets alluded to in the book, but she is in her mid-50s. So a very former teen detective. On the numerous podcasts or random people I've IRL talked to about the book, I've been saying: "The Holy Day is about a former, failed teen detective that, now in her mid-50s, after a life of total misery, goes on a combination One Last Case/doomed vacation. Think Nancy Drew if Nancy Drew had botched her young sleuthing career, and for most of her adult life has been knocking around the humid underbelly of Florida Panhandle culture before getting a chance—a missing niece she barely knows has gone missing—to fuck it all up one last time."
Before I knew you, I was drawn to your art but found it extremely difficult to find photos of you. This is the first work you've done that uses an author photo. How'd you get talked into that?
It was easy. Chelsea is an actual real-life friend, a sick fucking author, who I think has bulletproof taste, and consider her confidence in the quality of The Holy Day to be an ego boost and a level-up in this writing shit I'm trying out — so — I told her from the beginning that I would do anything she needed me to do. Author photo was the first and easiest to complete. And I am lucky enough to be friends with the amazing photographer Robert Hickerson, who shares a love of horror movies and Mario Bava lighting and knew he would nail an author photo. Although no bullshit, zero joke, I also considered going to Sears and getting a pedestrian photo taken with my dogs. But glad I went with Hickerson instead.
And lastly, what advice would you give for an aspiring author who wants to write something transgressive enough that most major publishers might balk?
That unless you're a "celebrity" seeing if they can get some Patrick Bateman fanfic published, there is zero chance one of the Big 5 will touch your book. Closest you'll get is the assistant to the assistant to the assistant's spam folder. Maybe. The margins are where you should be looking. But! The good news is the margins of publishing are popping off right now. So much cool and/or interesting shit going down that it's not hard to find where your microwave-manual-with-a-little-necrophilia-thrown-in belongs. Find books you like, or that are similar to yours, see if those publishers are taking submissions and get to sending. Easy enough.
Order The Holy Day from the Rose Books website.
Recommended listening:
Oh and did I mention that Chris also designed a SELLOUT shirt for me? They're in my store in black and white, marked down to only ten bucks because I'm down to the last few and am out of most sizes. Mostly Smalls and Mediums left. But if you can find your size, knock yourself out!
THE HOLY GIVEAWAY!
Want to enter to win a signed copy of The Holy Day? Paid subscribers can follow the instructions below. Everyone else, this is where I leave you. Thanks for reading!
This post is for paid subscribers