Discover more from REPLY ALT
Electronic mail dispatches from Dan Ozzi, America's Only Music Writer™
My 50 favorite albums of the decade
Here are the albums I loved from the 2010s. This is the only correct list.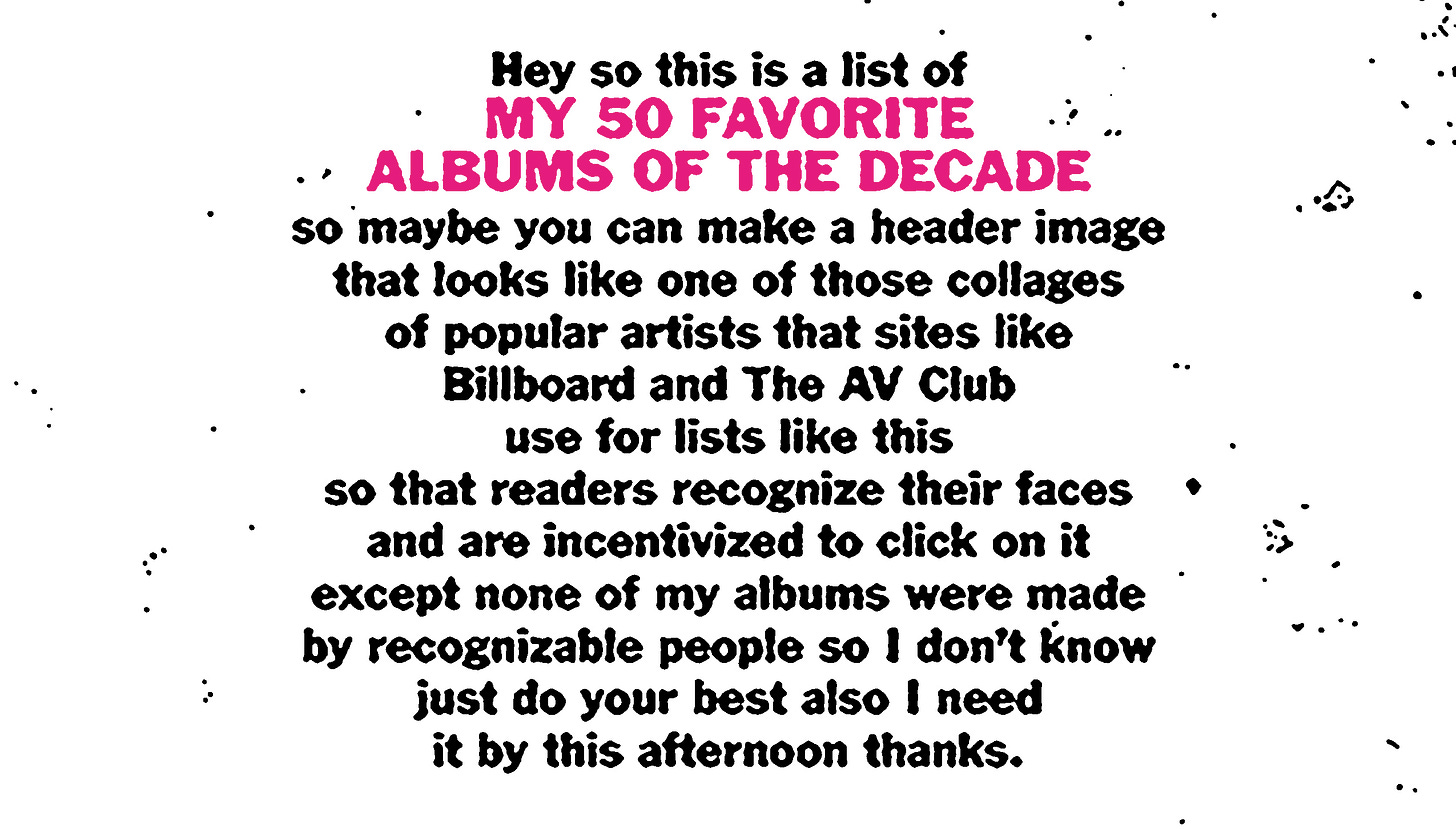 Well, it seems everyone's publishing their Albums of the Decade lists and I guess I should take a crack at one of these fuckin' things too, huh? But! Unlike most publications that compile their lists from the input of several writers with different voices and varying perspectives, my list is just me, and is therefore more correct than any other list. It is the most correct, in fact. So what you are reading are the best records of the 2010s, definitively. You may have read other similar lists but this is the correct one. Sorry you wasted your time on bad lists but rest assured you've found the good one.
Whenever I've had to contribute write-ups for a publication's Albums of the Year lists over the years, the copy usually has to be objective, keeping "I" and "me" out of it. I think that's the right way to do it, for the record, but it also makes the writing less personal. So, after years of stripping myself from my blurbs, I am going hard the other way and writing about why the following records are so important to ME because this is MY newsletter goddammit. I don't think these are necessarily ~*the best*~ albums, if such a thing can even be measured. They're just the ones that, for whatever reason, are important to me and have held a special place in my life over the last decade. I also fully realize this list is largely predictable. Whatever. And if you ask me in five years, I'll probably have a completely different list of albums. Also whatever. OK enough prefacing, let's do this.
Before we get into The Top Ten, here are 40 other albums I really loved this decade in no particular order. There are dozens I'm omitting or forgetting but listing more than 50 albums seemed excessive!:
Single Mothers - Negative Qualities
White Lung - Deep Fantasy
Murder by Death - Bitter Drink, Bitter Moon
Alex Winston - King Con
Desaparecidos - Payola
Gang of Youths - Go Farther in Lightness
Touché Amoré - Stage Four
Frightened Rabbit - The Winter of Mixed Drinks
The Dirty Nil - Master Volume
Off With Their Heads - Home
K*nye W*st - My Beautiful Dark Twisted Fantasy
Radioactivity - S/T
Cat Power - Wanderer
Portrayal of Guilt - Let Pain Be Your Guide
Cloud Nothings - Attack on Memory
Beach Slang - The Things We Do to Find People Who Feel Like Us
Birds In Row - We Already Lost the World 
Gil Scott-Heron - I'm New Here
Planes Mistaken For Stars - Prey
Conor Oberst - Salutations
Worriers - Imaginary Life
Beyoncé - Lemonade
Propagandhi - Failed States
White Reaper - The World's Best American Band
Drug Church - Cheer
Kevin Devine - Instigator
Brandi Carlile - By the Way, I Forgive You
High on Fire - Snakes for the Divine
United Nations - The Next Four Years
The Lawrence Arms - Metropole
Head Wound City - A New Wave of Violence
Converge - All We Love We Leave Behind
Arcade Fire - The Suburbs
Ritual Mess - Vile Art
City Hunter - Deep Blood
Billie Eilish - When We All Fall Asleep, Where Do We Go?
The Armed - Only Love
The Thermals - Desperate Ground
Cory Branan - Mutt
Pelican - Forever Becoming
---
10. Classics of Love - Classics of Love (2012)
Plain and simple: If frontman Jesse Michaels had released this album 20 years earlier, Classics of Love would have been the second coming of Operation Ivy. But he was in his 40s by the time he was able to put it together and, as Mike Park noted, it's hard to tour with a new band in your 40s. So this album didn't get the attention it deserved, but my god is the quality still there. It features Michaels' iconic, frenetic singing style that packs a metric ton of words into his dense yet somehow fun delivery. And pairing him up with Hard Girls as a backing band was a perfect fit that produced a really special record. In my mind this is the most underrated punk album of the decade.
9. Titus Andronicus - The Monitor (2010)
The greatest compliment I can ascribe to the power of The Monitor is that I am afraid of it. Its chronicling of mental health issues is so acutely relatable that I have learned that I must be careful about when I allow myself to listen to it. It's like looking at the sun—a quick glance won't kill you, but staring will leave you blind. If you're not in a strong enough headspace to handle The Monitor, it can take you down with it. Its darkness is deceptive, too—like Pennywise luring you into the storm drain with a goddamn balloon. There are catchy, anthemic elements to this record, which frontman Patrick Stickles told me this year that he regrets in hindsight, but they're often delivering tragic gasps of depression and mantras of pain. It is downright cruel and unfair that the most singable section on this record is the voice of Stickles' numbed id, whispering through the restrictions of medication, "You will always be a loser" 30 times. This album has soundtracked some of the darkest periods of my life over the years. I wish I could shake it but it sounds too good.
8. Laura Stevenson - Sit Resist (2011)
Laura Stevenson has evolved tremendously as a songwriter since going out on her own. An argument could be made that her albums have gotten stronger over the years, making her latest, this year's The Big Freeze, her greatest output. I'm not gonna sit here and argue with that, but at the same time, I can't escape the allure of her first truly great album, 2012's Sit Resist. Thematically, Sit Resist sets the tone for the albums that would follow from Stevenson—frequently self-deprecating material that chronicles what it's like to love an imperfect person, or to love as an imperfect person. "Barnacles" is a crushingly beautiful song about submitting yourself, flaws and all, to the love of another: "Take my lack of control and swallow it whole / Break my excuses to leave over your bony knees." Plus, the "Be My Baby"-esque drum intro to "Master of Art" just kills me, and kicks off the most perfectly written pop song in her deep catalog. 
7. Culture Abuse - Peach (2016)
I wrote a number of Album of the Year-type blurbs for Peach when it came out in 2016, one in New Noise who picked it as their #1 and one in Noisey where I lobbied to get it into the top ten. So I'm not sure if my brain knows any more ways to explain that this album is one of the most exciting debuts of the decade. I will say that three years out, I can now judge this record with some perspective and ask myself: Did I perhaps hype Peach up too much on its release? And the answer is absolutely not. Listening back now it still sounds as fresh as the day I first heard it. There is a raw catharsis here that hasn't dulled on me yet, and I don't think ever will.
6. Japandroids - Celebration Rock (2012)
As the complete inverse of what I wrote above about Titus Andronicus' The Monitor being my favorite feel-bad album, Celebration Rock is like a shot of dopamine straight to the heart. It's an extremely confident album that just wants to rock out. It is fireworks on a summer night. It is a first kiss in a parked car. It is a yell like hell to the heavens. It is all of this cheesy shit and it is unabashed about all of it. This album is the dictionary definition of rock music.
5. Hop Along - Get Disowned (2012)
The press caught up to Hop Along a few years after this record, around their sophomore album, 2015's Painted Shut, and their 2018 follow-up, Bark Your Head Off, Dog. Both fine albums and I can see why critics would get behind them. They're sharp, well-crafted cuts of indie rock. But for someone like myself, who falls hopelessly in love with scrappy debuts, there is nothing like Get Disowned. While Frances Quinlan has rightly been getting her due as one of the best songwriters to emerge over the last few years, what makes Get Disowned special to me is that it sounds like a duet between her and her brother Mark on drums. Frances learned music from the school of Jeff Mangum and Saddle Creek releases, but Mark grew up a Philly hardcore kid. Some of the best moments on Get Disowned are when the two smash those backgrounds together. There are times when Mark is absolutely wailing behind the kit ("Young and Happy!" comes to mind) while Frances is off doing whatever it is she does with her voice that has yet to be accurately captured by words. There are no fewer than four absolutely perfect songs on this record. Although "perfect" actually feels like an incorrect descriptor since songs like "No Good Al Joad" and "Get Disowned" are made special by how jagged and disjointed they are. The album's standout track, "Tibetan Pop Stars," feels like two completely separate thematic ideas jammed together. Some of the most memorable moments I've had watching live music over this decade involve seeing Hop Along belt these songs out. 
4. PUP - The Dream Is Over (2016)
It was really tough to pick a favorite out of PUP's Holy Trinity—the three albums they released over a five-year period. This year's Morbid Stuff was probably their most cohesive work, but 2014's self-titled LP was the shot-burst that unleashed them onto the world. But man, after 2016's The Dream Is Over kicks off with that unfuckwithable one-two punch of "If This Tour Doesn't Kill You, I Will"/"DVP" it's hard to deny that this is the album to beat. The Dream Is Over is the long bridge PUP had to cross to go from scrappy road dogs to the touring powerhouse they are now, and thematically it sees the band almost breaking under the weight of the ambition required to make that journey. Catch me on another day and I might pick a different album of the three, but buddy, this is the one I'm going with today.
3. Lorde - Pure Heroine (2013)
The other day I was trying to predict which of today's artists will still be around in 20 years. I think we'll get stuck with Taylor Swift and Bruno Mars because they're too big to fail, but the artist I'm really pulling for to have a long and prolific career is Lorde. 
I really try not to think about what it says about me that one of my favorite albums of the decade was made by a goth teen from New Zealand. But Pure Heroine is just a perfect album, top to bottom. It's an exercise in minimalism that avoids every urge to go bigger or louder or overcomplicate things. Truly an artist ahead of her time, Lorde's razor-thin approach opened the door for anti-pop stars like Billie Eilish. There is not a single dud on Pure Heroine, nor are there any tracks that aren't perfect fits in the larger picture. I am incapable of playing just one song on this record. Once I hit play, see ya in 37 minutes.
 2. The Menzingers - On the Impossible Past (2012)
Earlier this year I asked the Menzingers' frontman Greg Barnett what it is about this album that his fans connect with so deeply. Seven years from the release of this fan-favorite record and he said he still wasn't exactly sure. I also cannot speak to why this record is so special to other fans of it, but I've recently come to understand why it holds a special place in my heart. To me, this is a communal album. I have friends who also love it deeply and it makes me feel more connected to them. We've sung along to it on cross-country drives or when we've bullied dive bar jukeboxes. We recognize how cheesy it is to blast the record's more saccharine moments—lines about lost evenings on Brooklyn rooftops and covering up innocence with bad tattoos—and we fully embrace it. It's an album for late nights and impossible dreams, and you must submit yourself to that notion to enjoy it. To love this album is to lean into the maudlin sentiments typically found scrawled in high school yearbooks. 
On the Impossible Past is built to be enjoyed together with someone in this way. It's an album full of we moments. In fact, rarely does a song go by without some declaration of we...
"They were playing that song that we both learned on our Mexican guitars."
"We stumbled and stared at the carnival lights that lit up New York City."
"We took rides in your American muscle car."
"We used to get drunk before we did the dishes."
"We'll dance in subtle romance together."
"We'll never take the blame."
"We could live and no longer just have to hear it."
Again, I can't read the minds of everyone else who loves this album or hypothesize as to what makes it personally special to them. But I've seen The Menzingers play these songs live many times, and inevitably there have been people up front, singing along with their arms wrapped around each other's shoulders. So I've got to believe that I'm not alone here.
1. Against Me! - Transgender Dysphoria Blues (2014)
Against Me! has often been likened to this generation's The Clash, which I guess would make New Wave their Sandinista! and Reinventing Axl Rose their version of The Clash's 1977 self-titled debut. But what is Transgender Dysphoria Blues? It is an album whose monumental impact is so devoid of punk peers that it's hard to even judge it against another work. 
I am biased on this subject, I know. Perhaps I am a bit too close to the material to form an objective opinion. But it's all the knowledge I have that makes me appreciate it as nothing short of a miracle album. In many ways, Transgender Dysphoria Blues sounds like a wreck, because it is. For starters, it sounds like the drums were recorded and shoved in retroactively to avoid using the work of a drummer who had been relieved of his duties in the band. The bass tracks sound like Fat Mike trying his best to fill in for a member who had also abruptly relieved himself of his position. It sounds like a frontwoman doing her best with small studio resources to emulate the big-budget production skills she'd spent two albums learning from a legendary major-label producer. It sounds like that same frontwoman clinging for dear life after quitting hormones during the recording process. It sounds like a guitarist who had to pick his best friend off the floor and take her to the hospital in the middle of recording the album. It sounds like a suicide note.
But beneath the roughness, there is real beauty in Transgender Dysphoria Blues. "The ease of your pose, the grace of your silhouette." What an opening stanza! What a description of feminine beauty that at once both conveys appreciation and envy. "Dead Friend" and "Two Coffins" is a heartwrenching one-two punch that, when combined, shifts through the stages of grief, from kicking against the finality of death to embracing it as a source of mortal appreciation.
It's funny to me that this album proceeded Against Me!'s two Sire Records releases, on which they were swinging for a big radio single that never really came. This album has two songs—"Transgender Dysphoria Blues" and "Fuckmylife666"—that feature perfect pop hooks that might have brought them that success on the airwaves. I often wonder, if Laura was not singing what she's singing about on these songs, if she wasn't yelling the word "faggot" repeatedly, if she wasn't unloading a lifetime of frustration, could these have been hit singles? I have no idea.
And then there's "Black Me Out," a song that has truly taken on a life of its own. I've seen Against Me! play it in many different cities and it's hard to think of another song that gets the crowd response that it inevitably does. There's something about that song that people connect with which transcends the songwriting or its author. When Laura and I were putting TR*NNY together and she told me the story of her performing it for the first time on New Year's Eve right as the clock hit midnight, I told her she was full of shit, and that people would accuse us of embellishing. But sure enough, I did some digging and found a clip of it online, playing out exactly as she described it. People started cheering and celebrating mid-song as the clock rang in a new year, as if Laura Jane Grace as we know her was reborn right in that moment, sweaty and smiling on stage in Atlanta. 
Having been born in the 80s, there is a lot of punk history I was told that I missed out on. The guy who will forever be seen as the punk posterboy died in a hotel room with his girlfriend four years before I was born. The Clash had already released five albums before I entered the world. I was four months old when Minor Threat played their last show. But I firmly believe that when the next generation comes along, it will be with pride that I will be able to boast that I remember when Transgender Dysphoria Blues came out. I'll spin punk yarn about seeing Against Me! play "Black Me Out," and how I watched music history change forever in real-time.
If you agree with my list perhaps consider getting a paid subscription to REPLY ALT because we're clearly soulmates. Conversely, if you disagree with my list it would really grind my gears if you got a paid subscription to REPLY ALT because I just hate money so much! Maybe even consider getting that *special someone* a paid subscription this holiday season since you don't have to wrap it and or worry about FedEx losing it.