I made a zine. (Sorry.)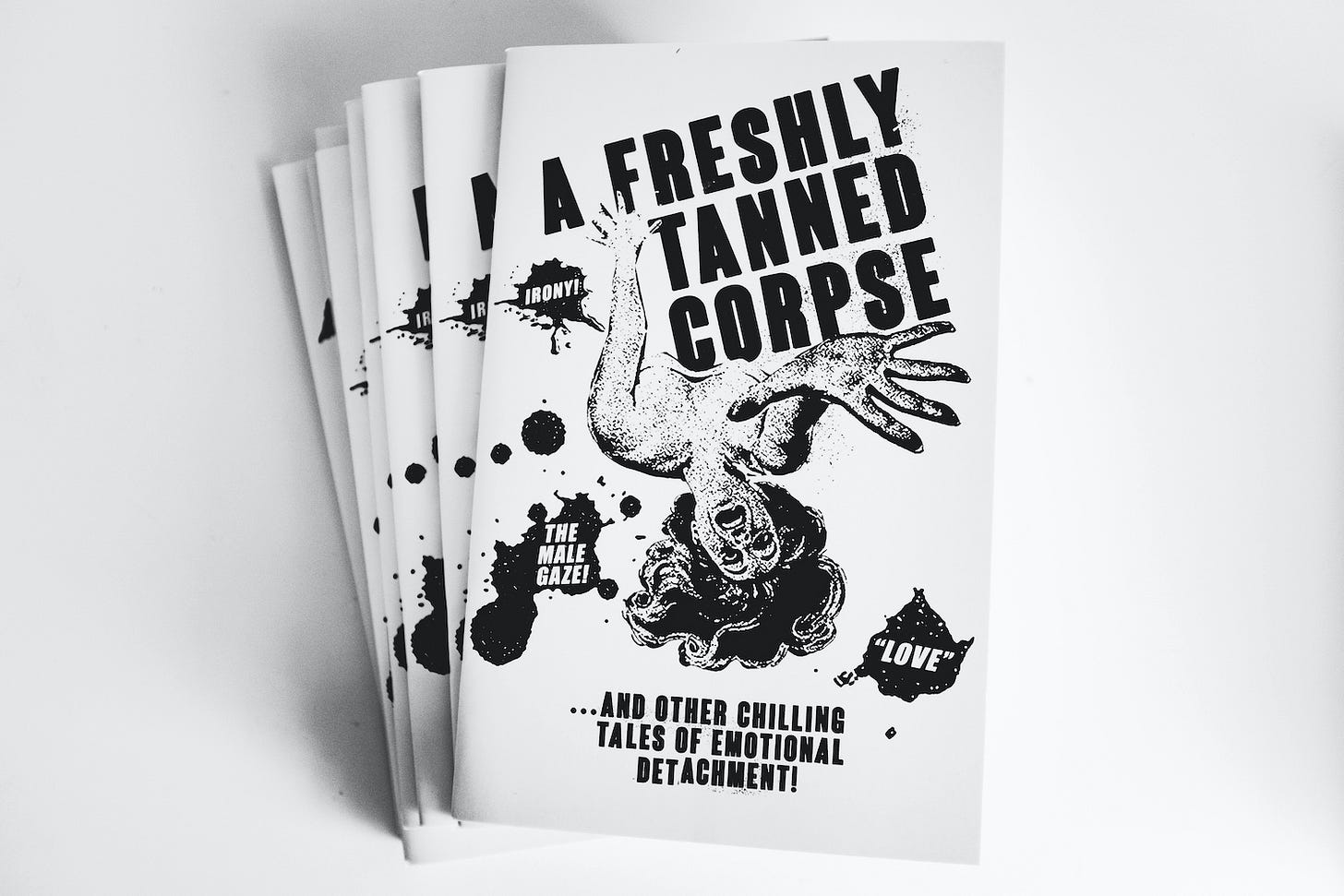 Outside of writing this wonderful newsletter, and writing a 130,000-word book, and various freelance writing assignments, I occasionally write for fun. Well, maybe not "fun" so much as… hm, I don't know why I do it, actually. Compulsion, I suppose. Vanity? Anyway, I threw a few things together and printed a zine.
It's a collection of some things I've written and photos I've taken in the year since I moved to Los Angeles for no good reason. It's called A FRESHLY TANNED CORPSE ...AND OTHER CHILLING TALES OF EMOTIONAL DETACHMENT!. It's one of the first things I've put my name on that's not strictly music-related. Well, I guess everything in my life is sort of music-adjacent (there is a short story—or maybe even technically a poem?—about Danzig's house in here). But it's more personal and semi-autobiographical but also fictional. Very L.A. Noir, Artsy Hardcore Dude Trying To Express His Pathetic Emotions Through Grotesque Imagery fare. Definitely a severe lack of that these days! A few short stories (one of which is very good), a few black and white photos (none of which are very good), 48 pages.
It's an edition of 200 and there are not many left because I opened them up to paying REPLY ALT subscribers a day early at a discount. (All the more reason to upgrade to a paid REPLY ALT subscription!)
Here's the link. $10 + shipping.
Imagine the THRILL of navigating the inner workings of an adult goth's brain!
MARVEL at one man's vain attempts to appear smart and clever!
GAZE upon the self-destructive repercussions of male desire!